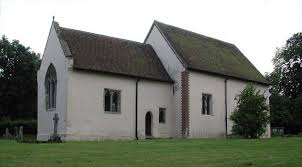 The next Parish Council meeting is on Monday 16th May 2022 at 8pm, view the agenda HERE
Latest Update:
May 2022 Solar Farm Planning Objection - Read the Parish Council Objection and visit www.bygraveactiongroup.co.uk
Due to late notification of the planning application, the last date for comment has been extended to 3rd June 2022.
Bygrave Parish Council serves the Hamlet of Bygrave which has won the "Best Kept Village" title in previous years. The village stands on a clay-capped hill, a defensive position where the original settlement was surrounded by moats which can still be seen today. From these defences, the whole parish bounded by Icknield Way, the Great North Road, the Cat Ditch and a ridge to the north would have been visible. The site of the village church, St Margaret's of Antioch dates from at least Saxon times with two phases of Saxon construction from 8th-10th centuries. Some Romano-British pottery, pre-dating the present church by several centuries was found under the north nave wall indicating a much earlier settlement on this site. This church has carvings of the ancient game of Nine Men Morris on the frames of the chancel windows. The Church is open at weekends only and the key is available from the churchwardens. The peaceful lane leading to the church was once the centre of a busy village and known as the Market Place and flourished between the 13th and 15th centuries. There was a 3-day annual fair beginning at the feast of St Margaret. The date was changed to Easter Monday and survived until Victorian days. The Manor Farm has contributed much to the life of this village, from when most people living there were actually employed on the farm, to the present day. Sheep are still grazed on the Common. There is a designated 'Heritage Verge' on the road between Baldock and Bygrave with examples of flora and fauna indigenous to the area. There is a Local Art Group who display their work as 'The Bygrave Collection'.